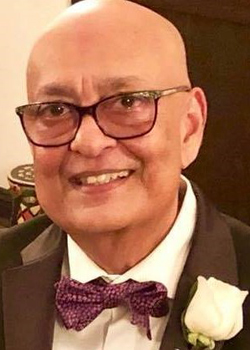 Bell Orestes de Souza
Vice President & COO
bdesouza(at)mansourtravel(dotted)com
Bell has over two decades of management experience in the travel industry, a flair for marketing and a strategic understanding of the business. He joined Mansour Travel Company in 1994. He was born halfway across the world in Bombay, India. From high-school to undergraduate studies to post-graduate work, he was educated in the best traditions of Jesuit education in Bombay and Los Angeles. Bell has a bachelor's degree in English Literature and Psychology from the University of Bombay and a master's degree in Communications from Loyola Marymount University in Los Angeles. He is well-traveled in Asia, Europe and the Americas. His career spans a range of assignments in marketing, advertising, promotion and general management. In the '70s, he served as Advertising Manager of a leading global hotel chain, Taj International Hotels, based in India; in the '80s, he directed the marketing efforts of a major special interest publication and was general manager of an upscale boutique travel firm in Toluca Lake, California. Under his direction, Mansour Travel Company has instituted several innovative and customer-oriented business practices, including a company-wide commitment to state-of-the-art technology. He has assisted the company in building a cohesive and effective team of professionals directed at the highest levels of customer service in a changing travel marketplace.
Over the years Bell has also been on the advisory boards of various international luxury hotel groups and has been on the Executive Board of SoCal ASTA (American Society for Travel Agents) and has been recognized by SoCal ASTA and the state of California as Travel Agent of the Year in 2017 and as Travel Agent Mentor of the Year in 2018.